Students Achievements
• A team of the students and faculty members won 1st prize in Inter College Social Movie Making Competition on 20th February 2016 organized by Janhit Foundation.

• Students of GSVSIJMC Won 1st prize in theatre competition and one act play in Nirwana festival organized by Vidya Knowledge Park on 1st Feb 2016.

• One Student won 2nd prize in photography competition in North Zone Youth festival organized by Punjab Agriculture University and AIU on January 2016.

• Theater team of the department won 1st prize in the inter college competition as well as 1st prize in photography competition in Subahrti Mauhotsav on Nov. 2015
• 4 students have won first prize in photography competition organized by IIT Roorkee on 27th -29th March 2015.

• 2 students won 2nd prize in debate and photography competition in Sharda University Youth Festival and 13 students participated in skit.

• 6 Students Participated in North Zone Youth Festival organized by Jammu University and AIU in Jan 2015.
• On 15th Feb 2014, students of GSVSIJMC was attended a workshop on "BRAINWASH" at Siri Fort Auditorium, New Delhi. Workshop was about the Avenues and Challenges in TV News in reference to job opportunity, Working Environment, Job Security. In this Workshop students got an opportunity to interact with eminent personality of TV journalism including Rahul Dev, Abhigyan Prakash, Sumit Awasthi, Ajit Anjum, Vartika Nanda and others. 45 students with 3 Faculty members were actively participated in that workshop.

• 3rd March 2014- Students of GSVSIJMC in a Film Festival 'Reel Emotions' organized by Noida International University, Noida from 3rd March 2014 to 6 March 2014. The event witnessed participation of many institutions. More than 170 films made by students were register by NIU team under various categories. Out of those, only 70 films were short listed for screening at the festival. The film titled, 'Muzaffarnagar Bol Raha Hun Main' made by the students of GSVSIJMC was one of those. The main motto of the festival was to encourage the sprouting talent in the field of film making and to celebrate the completion of 100 years of Indian Cinema. The honorable jury members included Mr. B.B. Nagpal and Mr. Deepak Parvatiyar, renowned media personalities and an inspiration to budding film makers. An eminent Hollywood film maker Mr. E. McClellan was present as a Guest of Honor. The participation of GSVSIJMC was supervised by Mr. Arpit Agarwal, Lecturer, GSV-SIJMC.

• 10 th March 2014 - SIJMC students participated in the event "CHETNA" Series of 5 Plays on Social Issues at SIFF Auditorium, SVSU, Meerut.

• 3 students attended 2 days National Seminar at GNDU Regional campus, Jalandhar. In this seminar eminent personality of Indian Movies Mangal Dhiloo, Manish Sharma (Punjabi Film Maker) has shared their experience with the students.

• Two PG students attended 2 days conference in New Delhi organized by FICCI.

• 20 Students attended 2 days' workshop in Meerut organized by Vishwa Samwad Kendra on 18-19 Nov. 2014

• 10 Students of GSVSIJMC participated in 4 days International seminar organized by Media wing of Rajyoga Education and Research Foundation & Prajapita Brahma Kumari Ishwariya Vishwa Vidyalaya, Mount abu, Rajasthan on 24th Sep. 2013. The Subject of the seminar was "Promoting Peace & Harmony – Role of Media"
Star Alumni of the college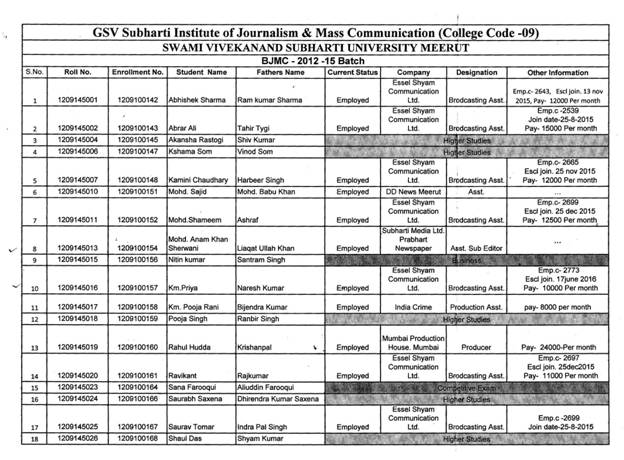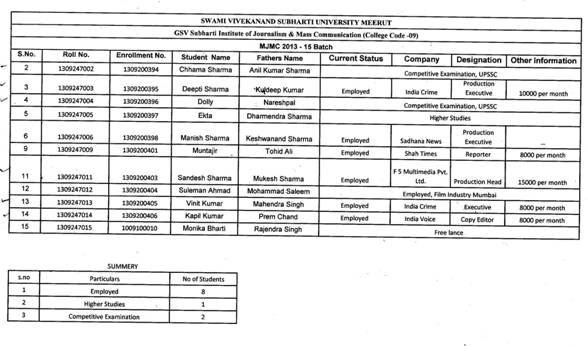 Upcoming Events @ GSVSIJMC